TOUR OF THE CENTRE OF VERONA
IN ELEGANT VINTAGE CARS
PANORAMIC TOUR OF THE CENTRE OF VERONA IN ELEGANT VINTAGE CARS
A unique and unforgettable experience during your stay in Verona!
A visit to the main historic sites and places of interest in the city in the most elegant vintage cars - magnificent Excaliburs, Bentleys and Rolls Royces - driven by elegant and discreet drivers.
During the tour you can admire the main places of interest in Verona:
Piazza Brà - Piazza Pradaval - Via della Valverde - Via Carmelitani Scalzi - Corso Castel Vecchio - Corso Cavour - Via Diza - Ponte della Vittoria - Lungadige Matteotti - Ponte Garibaldi - Via Arcidiacono Pacifico - Piazza Duomo (Cathedral) - Piazza Broilo - Via Ponte Pietra - Via A. Massalongo (Church of Santa Anastasia) - Corso Santa Anastasia - Arche Scaligere - Piazza dei Signori - Piazza Erbe - Via Cairoli - Piazzetta Navona - Via Nizza - Lungadige Rubele - Stradone San Fermo - Stradone Maffei - Piazza Brà.
During the stops, you can take some photos to immortalize these magical moments. A new and original way to experience Verona.
The tour lasts about 40 minutes, maximum 3 passengers.
Departure from your Hotel or from the Airport of Verona (Valerio Catullo) is included.
See the map of the tour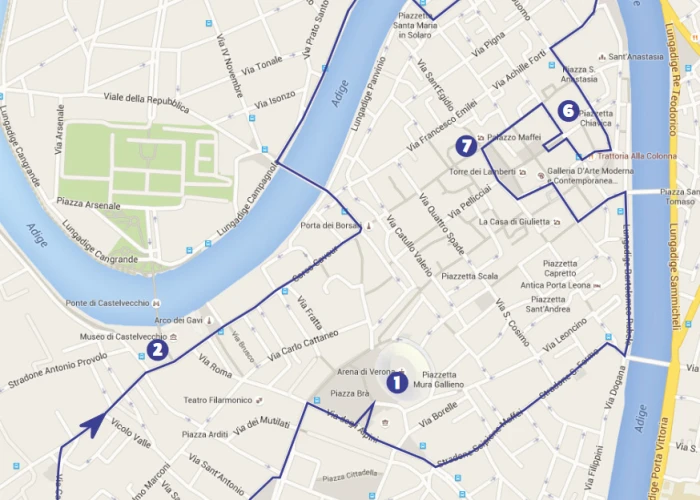 SEE THE VIDEO OF THE TOUR
TOUR RESERVATION REQUEST
Fill out the form in all its parts. To confirm, wait for a response from our staff, thank you.